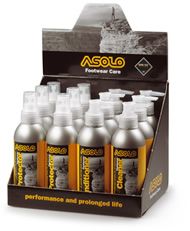 Asolo Footwear Cleaner
In Stock
Description
DIRECTIONS FOR USE: If very dirty, first clean the
footwear with water. Apply gel using a sponge or cloth, rubbling lightly
with circular movements on the whole footwear. Remove any excess
product with a dampened cloth. Leave to air dry. Reproof using Asolo
Footwear Protector. ATTENTION: Keep out of the reach of
children. Avoid contact with skin and eyes. In case of contact, rinse
with plenty of water. Do not swallow. Wash hands after use.